Mr. SANJEEV GUPTA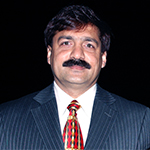 Passionate about the NonProfit sector and a leading thought leader in CSR, fundraising, NPO management training and motivational talks, conducted many training workshops and made presentations on national and International forums. He in on the board of many leading Ngo' and pro bono advisor to many NPOs especially the small new initiatives.

MEMBERS OF NGO"S

Member Governing Board, PPES, an NGO Rural Girls empowerment project.
Member Advisory Governing Council, Etasha, Vocational & employability skills
Member Advisory Board _-Udayan Care – child based NGO
Trustee Ratanlal Foundation – skill development
Honorary Advisor to many other NGO'S.
Ex Member Governing Board, Prayas, a leading child based organization.

Passionate about the learning & sharing, Sanjeev Gupta is a business entrepreneur, The blend of his learning under varied philosophies, innovative idea's and his professional experience of 25 years of various sectors – Industry, Trade, Agriculture, training and social sector giving a holistic empowerment dimension to projects. He has extensively worked in leadership positions, motivated teams to become leaders & take charge. Inspired by great leaders, his belief & style is based on "Personal Introspection and Personal Change" to become an effective leader to lead teams.

PRESENTATION & TRAINING EXPERIENCE

Have had the opportunity to present papers & conduct training on behalf of Corporate, Government Bodies and institutions, NGO"S, and farmer bodies at various leading National & International forums and Seminars -. to mention a few, main ones are as under:-
Presented at various National & international, B- Schools on the subject of CSR.
Kaelo CSR seminar – South Africa "Corporate Social Responsibility in India".
"Breaking the moulds" presentation at the South Asian Fund Raising Group Seminar on New outlook on Fund razing & resource mobilization.
"Orientation lecture on "Role of Money in the NGO sector" for the MSW students at College of Delhi College of Social work.
"Issues of Contract Farming" for and on behalf of Uttranchal Govt at the Submit AGRICOM and other state government seminars.
"Farmers Needs and issues in Basmati" for and on behalf of IRRI, at PUSA institute, ICAR
"Breaking into international brand chains" FOODPRO at Chennai
Anchored Seminars for distributors & other stake holders for Corporate.
Conduct training workshops and classes for the NGO"S, B School on CSR, introspective motivation & personal development.
Volunteer /training NPOs in effective management of resources and projects, Fund raising etc.