Ms. Amita Joseph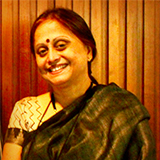 Dr. Amita V. Joseph has graduated from Madras University, done PGDM (Management ), has a law degree (Delhi University), PGDM (Human Rights) from the Law Institute & a PhD from Deakin University (Australia).
Amita has experience in the Corporate, development & Legal sectors over three decades & has lectured at a number of Universities & institutions. She has written & has worked on case studies, issues and juries.
Amita is associated with a number of non profit organisations, serving pro bono on their boards & is represented on a number of committees & development causes.